Jewels of the Amalfi Coast
Fall in love with Italy's finest coastline! Take a break to visit Sorrento and Positano, the most beautiful villages in the south of Italy. Explore Capri, the most famous island in the Mediterranean. Completely enjoy this pearl of the sea with its breathtaking views and famous small towns. Step back into history in Pompeii in one of the most historic and thought-about places in the world!
DEPARTURES
Daily Departures: April 1 to October, 2019

Included:
• Transportation by deluxe motorcoach
• Pick-up from centrally located hotels in Rome (within the Aurelian Walls)
• Full day regular excursion to Pompeii with real Neapolitan Pizza and a drink included for lunch
• 2 nights in Sorrento HB
• Transfer Sorrento Hotel / Harbour
• Full day regular excursion to Capri
• Lunch in Capri
• Visit of Blue Grotto (weather permitting)
• 2 nights in Capri BB
• Transfer Capri Hotel / Positano Hotel
• 2 nights in Positano BB
• Transfer Positano Hotel / Naples
PRICING DETAILS
Click Book Online above for 2019 pricing!
----
Pricing is based on 4-star accommodation category. 3-star accommodation and 4-star superior accommodation available upon request.
• All prices are per person
• Free accommodation for children up to 6 years old sharing the room with their parents
• City tax not included (paid directly at the hotel)
• Drinks are not included with meals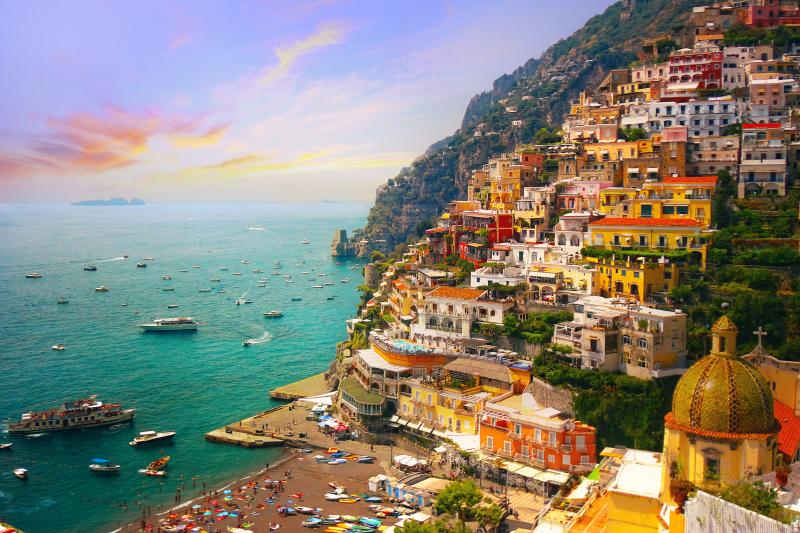 Rome > Naples > Pompeii > Sorrento > Capri > Positano > Naples
ITINERARY

DAY 1: ROME > NAPLES > POMPEII > SORRENTO

See Southern Italy highlights on your minitour from Rome. Your journey begins heading south along the so-called Sun Highway, crossing the fertile Roman countryside and the area known as Castelli Romani, dotted with enchanting medieval villages and arriving in Naples, one of the largest and well-known cities in Italy. Short panoramic tour climbing up to Vomero hill to enjoy beautiful views over the Gulf of Naples with the Vesuvius, Capri, Ischia and Procida and the city below; time to take some nice pictures. Descending towards the port of Mergellina, you will leave the city and travel south towards Mount Vesuvius and, once you reach the town of Pompeii, you will have lunch with the real Neapolitan pizza!

After lunch, you will enter into one of the most important archaeological sites in the world: a UNESCO World Heritage Site, the ruins of Pompeii, with Skip the Line entrance and a guided tour. Visit the haunting ruins of Pompeii, travelling back in time to the tragic days in 79 AD when the silent Mount Vesuvius suddenly erupted, covering the prosperous Roman city in deadly volcanic ashes and poisonous gases, leaving this prosperous city crystallized until our days. You'll learn how people lived at that time, visiting houses and "bars" of the time, admiring frescoes and mosaics to imagine how rich and prosperous was the city before the dreadful day. After the visit, you will drive along the Sorrentine Coast, arriving in Sorrento for dinner (dress code: a jacket for men) and an overnight in your new hotel. Meals: L, D

DAY 2: SORRENTO

Breakfast and dinner at the hotel and day at your disposal. Spend the day exploring Sorrento on your own or taking an optional excursion in the surroundings. Meals: B, D

DAY 3: SORRENTO > CAPRI

After breakfast, you'll be embarked to Capri island. Depending on weather conditions, you'll take a boat ride to the popular and dreamy "Grotta Azzurra" (Blue Grotto), where sunlight passes into an underwater cavity and shines through the seawater, creating a magical blue reflection. After returning to the port you'll board on a minibus for a scenic drive to Anacapri, 918 feet (280 meters) above the sea level. You'll see wonderful views of the bay of Naples before continuing to a local restaurant for lunch. After lunch, you can take advantage of some free time to explore Capri at your leisure or to go shopping and, in the afternoon, you will check in at your new hotel for a well-deserved rest. Meals: B, L

DAY 4: CAPRI

You will have plenty of time after your hotel breakfast to explore the beauty of Capri, sometimes called the "Garden of Eden," at your own pace. Discover the many shops and restaurants of this wonderful, sunny island or take a swim in the Gulf of Naples. If you'd rather take a day trip, you may book a separate excursion to nearby Anacapri, situated on the slopes of Monte Solario; the port city of Marina Grande; I Faraglioni, three impressive rock structures that have survived many kinds of erosion but yet still protrude grandly out of the sea; or the famous Villa Jovis, a residence built for the emperor Tiberius in the First Century BC. Return to your hotel for one last evening in Capri. Meals: B

DAY 5: CAPRI > SORRENTO > POSITANO

After breakfast, depart to Sorrento by ferry, once on the mainland, you will board on a coach for Positano, driving along the Amalfi Coast on the most famous road in the Campania region. In Positano, check in at your hotel and enjoy the rest of the day at your own pace. Meals: B

DAY 6: POSITANO

See all that Positano has to offer as you set off to explore the ancient fishermen's village after breakfast. Known for its cubic Empire houses perched upon cliffs looking over turquoise water, Positano is the most well-known summer resort area on the whole peninsula. Walk to the heart of town on Via Pasitea and weave your way through the city's narrow streets, terraces, and gardens overlooking the bay. Be sure to buy one of the straw handbags or handmade sandals for which Positano is famous. Return to your hotel for one last overnight. Meals: B

DAY 7: POSITANO > NAPLES

Enjoy a final breakfast in your hotel before setting off to Naples, where our tour will conclude. Meals: B